The following provides

information about sales

: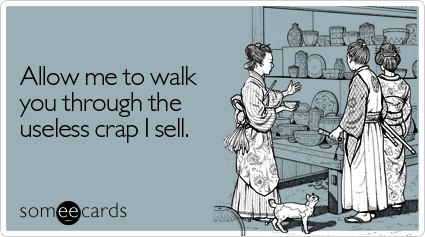 1
Buy low. Sell high.
Find great deals at thrift stores or on eBay! Sell items for as high a mark-up as you can.
CLICK HERE TO learn how to sell on CraigsList for FREE!
CraigsList.Org
You may

create a free website

with
Blogger
which you can use to list your products. Write a post for each product, and edit the post to make consumers aware of any changes, like if you have sold this product. Write a little something about how you take requests, so you will know which products are in high demand. Supply your email account, which you will have gotten when you signed up with Google's
Blogger
, to allow customers to contact you.
CLICK HERE TO learn how to use Blogger.
TIP: Start out advertising "A Portion Of The Proceeds Will Benefit Charity." Be specific about which charity, though.
Ex: "A Portion Of The Proceeds Will Be Donated To
Charity: Water
."
You may advertise on Facebook, Craigslist, and Twitter. Gain followers on Twitter by following other people (they tend to follow you back once you follow them - follow about 75 new people a day).
You can even create a business page on Facebook for free, but using your personal account is a good way to get your face in front of your sale!
Use a free PayPal account to accept payments safely and securely.
CLICK HERE TO learn more about computers (to save you time when working).
Print paper advertisements (try to use recycled paper!) and post them on local bulletin boards at coffee shops, churches, libraries, etc. Put them anywhere that people congregate!
Make business cards/bookmarks and hand them out if you want!
CLICK BELOW to read some helpful articles: