"An antioxidant is is a molecule that slows or stops oxidation, a chemical reaction that can produce free radicals. Free radicals are highly-reactive elements that can damage cells and, it is speculated, lead to conditions such as cancer, cardiovascular disease, Parkinson's and Alzheimer's.
Antioxidant rich foods may help prevent cellular damage and protect against the development of numerous diseases

(5)

."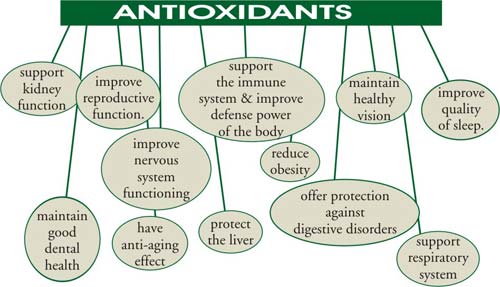 4
6
"
This is why a diet high in antioxidant-rich fruits and vegetables is recommended by doctors and nutritionists alike. Recent research indicates that honey's antioxidant capacity can be just as effective as the antioxidants in some fruits and vegetables (3)."
"Antioxidants are compounds that neutralize free radicals, or unstable oxygen molecules, in your body that damage cells and tissues and increase your risk of illness and disease
(2)
."
1
Some Antioxidants (see links for food sources):
Selenium
Beta-Carotene
Vitamin E
Vitamin C