The following details the creation of an

easy BASIC resume

: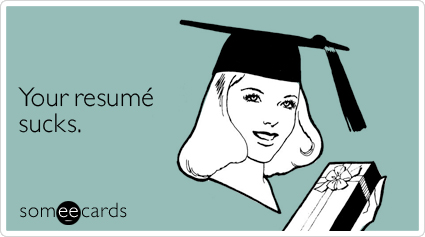 1
You will receive an email address once you
create a free Google account
(
CLICK HERE TO sign up for one
).
Personalize your resume.
Use your Google account to email as needed.
If you have particular job EXPERTISE (experience)
that you would like to note, do so in an orderly fashion (use complete sentences that are grammatically correct).
Find potential jobs on
Craigslist.Org
(
CLICK HERE TO learn more about Craigslist
).
Put your resume in your email response to each job posting. You need not put anything else in the email.
Follow the instructions of the job posting.
If they ask for specific information, provide it at the bottom (in complete grammatically correct sentences). If they want you to put something specific in the "subject" part of the email do so. Otherwise, put
xxxx
Job Application. Replace the
xxxx
with the name of the job (Ex: Server Job Application).
CHECK YOUR EMAIL DAILY AND RESPOND TO ANY FOLLOW-UPS IMMEDIATELY!
(For a more detailed and professional level resume, follow one of the many templates available online: Simply search Google.Com for 'resume templates' to find one you like ...
A reader, LISA, recommended this resume template:
resume-examples.org/
(
CLICK HERE TO learn how
to copy & paste text
).
Good luck! Apply to as many jobs as possible!
............................................................
Name:
xxxx
Email:
xxxx
County & State:
xxxx
Goal(s):
Full-time or part-time employment within this organization;
Advanced training as required/offered.
Availability:
Available immediately to begin working;
Willing to work special shifts, holidays, etc. as able.
Willing to travel as able.
Skills:
Administration (General) - Overseeing projects and activities.
Bookkeeping (Light) - Keeping track of business records and applying information as needed.
Human Resources - Training and development of personnel.
Marketing - Promoting and selling various goods and services.
Social Networking - Communicating with and uniting others using various platforms.
Community Leadership:
Providing administrative assistance to charitable causes/organizations as able.
Expertise:
Extensive training in the field in which I am applying was completed by personal and professional mentors over an extended period of time.